Couch Potato - Play Online Slot
Couch Potato Slot Review & Experience
| | |
| --- | --- |
| Slot Type: | Classic Slot |
| Free Spins: | 20 Free Spins |
| Bonus Round: | No |
| Progressive Jackpot: | 75 000 |
| RTP: | 97% |
| Reels: | 3 |
| Paylines: | 1 |
Are you a couch potato who wants to take advantage of your lounging time? Couch Potato Slot is the game for you. Microgaming has created this slot machine with a leisure theme in mind, so you can relax and enjoy yourself while playing without any pressure.
The game is available at casinos everywhere, with new players getting 20 free spins after registration. Newbies will also get matched up with other newcomers for additional bonuses that are usually hard to come by outside of online gaming sites!
Couch potato is a classic slot that is created and provided by Microgaming. It has a unique lazy theme that can make players a bit off. The theme does not intend to call gamblers lazy, but to give them an amazing experience while at it.
The slot has warm background colors, with blue as the dominating one. It features the couch potato seated on a couch in a lazy manner that represents the game's theme. Like other classic slots, symbols such as cherries, bars, and 7s are available.
The software provider has done a good job on the game's graphics. Although the game has a lazy theme, the graphics used are sharp, and the background music is cheerful, like in most slots.
The provider has set maximum and minimum stake limits. Often, players stake between 0.25 and 0.75 coins per spin. Those that want to have better win stake up to 3 coins per spin. Since there is only one line, the number of spins a gamer makes increases their chances of winning.
The classic slot has 3 reels and 1 payline. It gives gamblers a chance to win a maximum of 15,000 coins.
Couch Potato Game Features
Couch potato as features that make it stand out. With its unique theme, the best Microgaming slots have features that will keep gamblers entertained during their time on the slot. Let us see some of these features:
The wilds
These symbols are represented by the couch potato logo. This symbol can substitute all the others to give gamers winning combinations on the payline. The rewards made from making the right combinations are great. If one combination is correct, it is multiplied by 5X and 25X if two of the combinations are correct.
Jackpot Size
It is the highest reward gamers get from the slot. To win the jackpot, gamers have to get all the 3 couch potato logos on the line. Instead of playing with 0.75 coins as the highest stake amount, players must play with 3 coins to win the jackpot.
Usability
The slot is super easy to use and be enjoyed by gamblers without getting up from their seats. The slot is neatly organized with all the buttons well displayed at most of the casino apps for Android and iOS. The balance is displayed on the left-hand side of the slot game. Scrolling through the game is not technical, making it interesting.
Device Compatibility
Like most of its slots, Microgaming has not overlooked the device usability of this slot game. Because different players prefer using different devices when playing, the software provider has ensured the game is maximized for different devices.
That is, if a player is using a mobile device, the game still has a good resolution, and the display is as satisfying. The game's optimization for mobile devices and PC makes it accessible from wherever.
Couch Potato Game Play
Couch potato is a 3 reel and 1 payline slot machine game. It is unique in that it does not have as many paylines and symbols as other slot games, which is a real representation of its lazy theme.
There are few features, which make playing this game easy to play. With only one payline, gamers can easily hit the jackpot if they get all the reels correct on the line. The winnings can be multiplied by 5X or 25X, depending on how many reels are correct.
To win the jackpot, players have to get the three reels on the payline correct with a special exemption that they stake with at least 3 coins. The maximum win that can be made with other games other than the jackpots is 15,000 credits.
Couch potato rewards its players with a high RTP, which reaches up to 97%. The rate is great and encouraging, considering there is not much to explore in this slot.
The slot game has an auto-play function that allows gamers to spin up to 500 rounds without stopping. The function is only available to gamers on expert mode only. This function is great, especially when a player does not want to spend too much time spinning.
Couch potato has medium-high volatility. Although gamers do not frequently win on this slot, they get huge rewards when they win. The frequency of winning chances does not affect the thrill created by the game. With the auto-play option, the frequency does not seem that rare.
For new players and those looking to play for fun, they can try the slot's demo version. It allows them to familiarize themselves with the game before playing with real money. There are no requirements set by the software provider about playing the demo version.
When playing for money, players have to make a minimum stake of 0.25 or a maximum of 0.75. These bet amounts give them the chance to win the maximum amount of 15,000 credits.
Conclusion
Couch Potato is a slot game with the same simple premise as other slots games. All you need to do is match three symbols of the same type. What makes this game different from others, however, are its wilds and jackpots, which help increase your chances for big wins!
We hope we have covered as much information in our online casino gambling guide as you would wish to get you started with enjoying this slot. Though it has a unique layout, we think you will love it. If you're looking for an exciting new way to pass the time or just want something fun and entertaining to play on your phone when waiting in line at the grocery store, then try couch potato.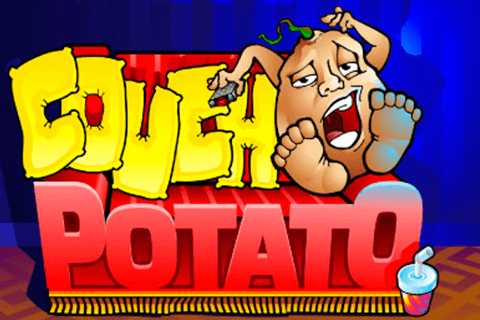 Most played Microgaming Online Slots