Video Poker Rules and Winning Strategy for Beginners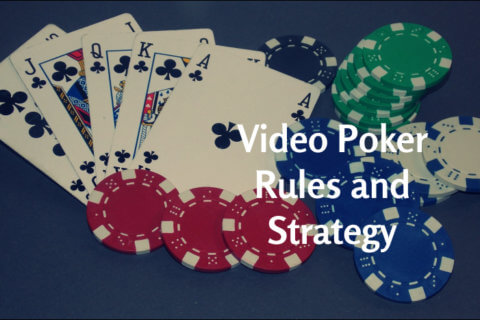 Unlike many games like slots and roulette, video poker involves some degree of strategy. This means it's possible to improve your chances using proven strategies. Video poker is a bit like blackjack; however, this game uses a virtual deck that's simulated by an RNG (random number generator). This is a game that's more than just hoping you get lucky and chase a royal flush. 
If you know any poker players, you'll know they're skillful people. The same goes for those who play video poker. Even Forbes suggests partnering with a poker player for business is a great strategy!
Few online casino games can match how much skill you can use to manipulate the game in your favor.  From choosing low pairs and knowing pay tables, we'll guide you through making the most of video poker with strategies and secrets that even beginners will find a breeze to understand. Let's go through some tips to help your video poker skills develop.
Video Poker Basic Rules
Video poker is based on five-card draw poker and has the same rules. However, you're only playing by yourself and not with other players. 
The game basics are pretty simple. The video poker machine will deal you five cards, and you can draw as many as five more. You press "hold" on the cards you want to keep in your hand and "deal" to replace those that you don't. The payout received will depend on this final hand, and what you win will be based on the published pay table. 
There are basic hand rankings (from the best downwards)
Royal flush

Straight flush

Four of a kind

Full house

Flush 

Straight

Three of a kind

Two pairs 

One pair (usually at least Jacks)
Some specialist versions of video poker (like Deuces Wild) will have extra paid hands like five of a kind. Some might also not pay for a pair or two pair of hands.
The Rules of Jacks or Better
This type of video poker is pretty simple to master, as it's one of the simplest versions. To get a payout, you need to have Jacks or better in your hand. Your objective is to have the strongest hand possible. You get extra points for every pair you get that's Jacks or better. It's also possible to have as many as 100 hands at once, and so the more hands you choose to bet with, the higher your winnings might just be.
The game starts after you've placed a bet. You're then dealt your five cards and need to choose any to discard if any. Here are some tips and strategies for doing well in this game:
Don't try to get another hand if you already have two pairs, four of a kind, three of a kind, or full house. 

Don't give up any High Pair for a four to a Straight hand or four to a Flush hand. 

Keep hold of Low Pairs, even when you have four cards to a Straight or three cards to a Straight flush.

No matter what, if you have four cards from a Royal Flush, always discard the fifth card.

If your initial cards are a Straight or a Flush, keep those hands (unless you are one card from a Royal Flush).

Bear in mind that a Flush, Three of a Kind, a Straight, and a High Pair are all stronger than three cards leading to a Royal Flush. Only keep this hand if you also have lower ranked cards, like four to a Flush or a Low Pair.

Unless you have four cards to a Royal Flush or Straight Flush, keep any High Pair you're dealt.
The Rules of Deuces Wild and Jokers Wild
Like Jacks or Better, Deuces Wild and Jokers Wild is a pretty simple game. The only difference is that this has wild cards. 
Start by clicking the virtual chips at the online casino, then choose the number of coins you want to bet for each hand. When done, start the game by clicking "Deal". 
When you receive your five cards, don't forget that Deuces and Jokers are "wild". This means you can swap them for another card in the deck. Next, choose the cards to hold and get new cards for the ones you don't want. In this game, you'll receive a payout for any hand that contains Three of a Kind or better.
In terms of strategy for this variation, there are a few tips to note:
Getting a pair on your initial deal is worth more than two pair. This is because Two Pair doesn't pay out. If you get two pair initially, only hold one to see if you can make Three of a Kind.

In this game, a made flush or a made straight are worse than four to an inside straight flush. It is better to draw to a straight flush than take the flush/straight payout.

If (it's rare!) you happen to get a wild Royal Flush on your initial draw (four wild cards), it is better to give up your Royal Flush to try and get five wilds. This is because there is a huge payout difference, and so it makes massive sense to give up a small payout on the off chance!  
How to Win at Video Poker: Strategies
The biggest mistake video poker players make is to guess and play video poker games for free without a strategy. This game gives people a real chance of winning when they learn a few tips and tricks. Here are some things to consider when choosing your video poker strategy.
Check the pay tables
Make sure you look at the pay tables so that you know what the game pays out before you begin. The great thing about video poker is that you know what you can win before you even play. 
Use a strategy chart
Every time a player pushes 'Deal', they have 32 different ways to play the hand. In order to have the best chance of winning, you'll need to make a good choice from the 32 options each time. Because computers are now capable of analyzing all of the different ways of playing each possible hand, you can work out the best way to play for all of your hands. However, most people won't be able to use a computer to do this every time they're playing video poker!
Fortunately, experts have done the hard work and have developed strategy charts to help players learn what to do with the different hands they receive. Here is an example: (there are lots more available online)
| | |
| --- | --- |
| Initial Hand | Strategy to use |
| Mixed low cards (with 10 or less) | Discard all five cards |
| 1 high card (J/Q/K/A) | Hold high card, discard 4 |
| 2 card royal (no ace, 10 or no 10, ace) | Hold the 2, discard 3 |
| 2 high cards | Hold the 2, discard 3 |
| 3 high (J/Q/K – not A) | Hold the 3, discard 2 |
| 3 card straight flush | Hold the 3, discard 2 |
| 4 card straight (with 1 high) | Hold the 4, discard 1 |
| Low pair (10 or less) | Hold the pair, discard 3 |
| 4 card flush | Hold the 4, discard 1 |
| 3 card royal | Hold the 3, discard 2 |
| High pair (Jacks or better) | Hold the 2, discard 3 |
| Two pair | Hold the 4, discard 1 |
| Straight  | Hold all |
| 4 card straight flush | Hold the 4, discard 1 |
| Three of a Kind | Hold the 3, discard 2 |
| Flush | Hold all |
| Full house | Hold all |
| 4 card royal | Hold the 4, discard 1 |
| 4 of a kind | Hold all |
Using a strategy chart
Once you understand a strategy chart, they're pretty straightforward. To use one:
Start analyzing your hand to see what you have.

Work your way down the chart to find where your hand matches. 

If you have more than one match on the chart, choose the best one for your strategy.
Video Poker Odds
If you're keen to know how likely you are to get a specific hand, you might want to look at video poker odds.  The table below shows how often, on average, each hand turns up (starting from most frequent to least frequent). 
| | |
| --- | --- |
| Type | Odds |
| Straight | 1/80 |
| Flush | 1/85 |
| Full house | 1/90 |
| Four of a kind | 1/423 |
| 2s – 4s | 1/2601 |
| Four deuces | 1/4909 |
| Four Aces | 1/5761 |
| 2s – 4s (with kicker) | 1/6984 |
| Straight flush | 1/9150 |
| Four aces (with kicker) | 1/16,236 |
| Royal flush (end hand) | 1/40,000 |
| Royal flush (initial hand) | 1/650,000 |
Different versions of video poker will have different odds. Before playing, choose a game that has the best video poker odds, then use the best strategy for video poker that you can find!
Video Poker Tips for Beginners
If you're a beginner and really want to know how to play video poker and win, the best thing you can do is read every video poker guide you can get your hands on and then do some demo games to test it out. Knowing how to play video poker strategy cards will really help you succeed and win big!
Conclusion
So, there you have it, our quick guide on video poker for beginners. As with all games, it will take dedication and experience to build up knowledge and skill, and you will likely make a few mistakes along the way. The best thing you can do is play low stakes until you find your feet and understand how the different strategies work for the variation you're playing. Good luck!
FAQ
How can I win at video poker online?

The best way to win is to read up on strategies and practice lots! Even trying some demo games to see how you'd fare before parting with your hard-earned cash is a good idea.

What is the best strategy for playing video poker?

The best strategy for playing video poker is to look around for the best games. If you happen to come across Deuces Wild that has a 100% payout when it's played optimally, definitely choose that one!

Where can I play video poker?

The majority of online casinos have at least one video poker option these days, thankfully! Don't forget, your brick-and-mortar casinos also have these machines too!