Playing Single Deck Blackjack: Strategy and Rules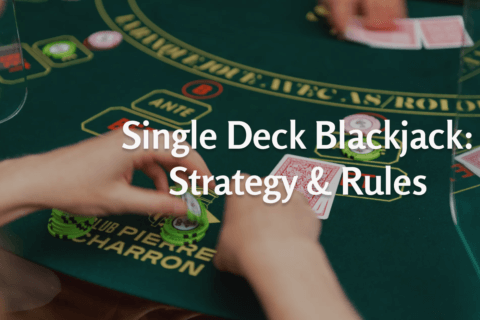 Blackjack is a widely played and popular card game. Its popularity comes largely from the fact it has a low house edge and so wins can be big. Traditionally, the best online blackjack real money games use multiple card decks, but it can also be played with a single deck. Ultimately, the basic objective of single deck blackjack is the same. However, when playing, the game differs slightly.
Though there are more opportunities to win, there are also lots of misplayed hands. For online casinos, it's another game on offer, which attracts new players and keeps the selection fresh. Let's take a look in more detail.
Single Deck Blackjack Rules
With single deck blackjack rules, the aim of the game is to get your hand to 21 – or as near as possible to 21 – without going bust. Most of the rules are the same and are as follows:
The single deck is shuffled prior to playing.
A hand can be split up to three times.
The dealer will hit on soft 17.
You can split aces. Players get one card per ace, which can't then be split again.
The hand isn't a blackjack when the hand total has a split ace and a 10.
The blackjack payout is 3:2. Insurance bets payout at 2:1 and other winnings hands is 1:1.
Single Deck Blackjack Card Counting and Charts
Card counting is a legal technique that a blackjack player can use to work out when odds are shifting in the player's favor. Single deck blackjack card counting is much easier to do than when multiple decks are involved. Especially since removing one card from the deck becomes significant.
However, it's rare to find single-deck blackjack in land-based casinos nowadays. If you play online, card counting tends not to be an effective strategy because cards are reshuffled automatically.
To help, a single deck blackjack chart is available on blackjacktactics.com.
Single vs Multiple Deck Blackjack
In both cases, you need to achieve a hand total of 21 without going bust. However, the single deck blackjack basic strategy is slightly different, as is the gameplay and approach needed.
Single deck blackjack
Multiple deck blackjack

Pros 

House edge = 0.15% 

Payout 6:5

Lower chance of busting

Higher chances of profiting

Card counting is easier 

House edge on insurance 5.8% 

Easier to find online

Cons

House edge on insurance 5.9%

Fewer casino points offered (due to the lack of profitability of the game for the casino)

Harder to find online 

Payout 3:2

House edge = 0.46% to 0.65%

Higher chance of busting

Card counting is harder

Lower chance of profiting 
How to Play Single Deck Blackjack
Here is a step-by-step walkthrough of how you play single deck blackjack:
Place a bet.
The dealer deals you both with two cards. The dealer has one card face down and one face up. Both of your cards are dealt face up.
Looking at your cards and the dealer's face-up card, you need to decide whether to draw more cards (hit), stop drawing cards (stand), place another bet (double down), or split cards (if they have two of the same rank). Depending on the option chosen will determine the next steps of the game.
Blackjack terms for new players
Hitting – in a single deck game, hitting is a common optimal play technique, just like it is with a multiple deck game. Players should hit when they have most pairs apart from 8, 9, 10, and aces if they depend on the hand of the dealer. A Hit should also be placed with soft hands apart from A-10, A-9, and A-8. For hard hands, players should hit for the majority of cards apart from 17-21.
Doubling – this is another optimal play technique for single deck blackjack. It is played in many hands and situations. It's usually done after the dealer's hand is determined. For example, if a player has a pair of fives and the dealer has a two and a nine, it would be correct to double.
Standing – if a player has a hard hand of 17 to 21, they should stand. They should also stand if they have a soft hand of A-10 or A-9. If the player were to have A-7 and the dealer 6-3, the player should stand on 8, 7, and 2. For a pair of tens, standing is also the best choice.
Playing strategies for single deck blackjack:
There are many single deck blackjack strategies that players can use to help them win. To start with, a player needs to consider how each card in a single deck game has a big impact on the rest of the cards' distribution. This is advantageous to players, and it shows how players should pay very close attention to blackjack cards counting that are being played and dealt with.
The rules for double down differ in single deck blackjack games and should be considered more seriously. If after a split, a player doubles down, they can choose to be more aggressive and split a pair of threes if the dealer were to show two or three rather than four through to six.
In a similar vein, players should surrender strategically – and only then that's the best option. For example, if a player is dealt a pair of sevens and there is a ten with the dealer, the single deck blackjack odds are going to go against you. Thus, it might be a good idea to surrender.
If the dealer stands on soft 17, it's an ideal opportunity for a player to increase the odds with specific plays and beat the dealer. A simple yet important single deck blackjack strategy is never to take insurance, since the insurance house edge in a single deck blackjack game is 5.9%.
Conclusion
Though single deck blackjack isn't played commonly in brick-and-mortar casinos nowadays, it is commonly featured in online casinos. Blackjack chart single deck players are presented with a chart they can use to increase their chances of winning. For new players, using a blackjack simulator is a good idea. This allows players to practice their strategy and learn about the game before they start playing for real money in casinos.