How to Win at the Casino with $20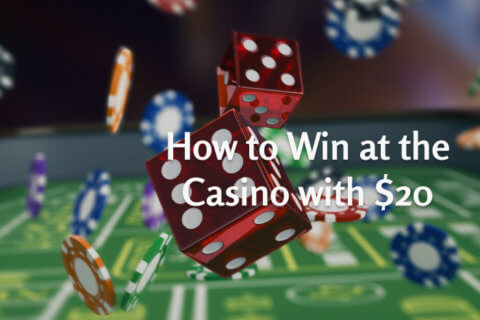 Going to the casino with $20 dollars could seem like a recipe for disaster. However, using the right strategy, you can win substantially, even using a small amount. The betting industry is worth billions of dollars and offers bettors the chance to win huge returns using small stakes. With a small betting balance, the ability to win more from betting has been made more feasible because of online casinos.
Online sites are a comfortable and easy-to-access gambling option for bettors. Particularly it lets gamblers access slots and other games worldwide with diverse minimum stake amounts and maximum winning amounts. There are several ways to learn how to win at the casino with $20, and CasinoHEX will show them to you in this guide.
Choose a Reputable Casino
A reputable casino will have a license and regulation from a recognized authority like Curacao, MGA, and UKGC. Regulating bodies mandate a certain level of fair gaming policy among its registered casinos, ensuring that you are not duped or manipulated. Besides, most reputable sites will also have a fairly good reputation for offering great odds and payout ratios. A trusted site will not possess rigged games which will increase the fair chance of winning. If there is no manipulation, then you can maintain a budget and possibly make a win.
Choose Games with High RTPs
High RTPs (Return to Player) represent the percentage of bets placed on a slot machine or a casino game that will be paid back over time. Selecting games with higher RTP means you'll receive a significant proportion of your staked money in the long run, which can be an excellent option for bettors looking for how to beat the casino. When you bet using a limited budget, you want to maximize your chances of winning, and games with high RTPs help do that. Slots and table games with 96% or higher RTP are best because you can expect to receive back $0.96 for every $1 you wager over time.
Pay Attention to Bonus Offers
Casinos offer several types of bonuses. These offers range from welcome bonuses to loyalty rewards, and they can either provide you extra money to play or simply offer you free spins or other perks. Those on a budget can take advantage of these offers to get all the betting chances available through a bonus without requiring more personal funds. There are several types you should pay attention to, but we particularly suggest the following two.
Welcome Bonus
A welcome bonus is for new players who sign up at a casino. It can include free spins, deposit matches, or both. Some sites welcome bonus doubles or triple the bettor's initial deposit, while others simply offer you a stipulated amount irrespective of an initial deposit.
No Deposit Bonus
There are very few strategies on how to win at the casino with little money, and the no deposit bonus is perfect. The offer is usually a welcome bonus, and the casino simply deposits a stipulated amount once an account is open. With this free money, new players can try out several casino games without making any deposit and still stand a chance of winning. There are some terms and conditions when using this offer, but it is mostly a perfect way to place bets when on a budget.
Place Small Bets
Placing small bets is a crucial strategy for winning at the casino. They can stretch your bankroll and potentially win more money over time. For example, if you're playing a slot machine and bet $0.25 per spin instead of $1, you can play four times as many spins with the same amount of money. This means that you are afforded more winning chances.
Choose Games with Progressive Jackpots
Progressive slot machines offer better-winning chances to gamblers playing casino games and slots. It increases whenever the game is wagered on without a winning outcome which means the game often grows to enormous amounts bringing life-changing wins. The casino game offers you the potential for large payouts when betting using a limited budget.
Which Games Are Best for Playing for $20?
Many people on a budget will ask how can I win at the casino. The best strategy is to choose games that offer the best winning chances for your budget. Some of the popular games to play include:
Craps

This is a dice game that offers some of the best odds. Craps is fast-paced and exciting. Bettors can place small bets, which helps to stretch the player's bankroll.

Roulette

This game offers good odds of winning, especially if you place bets on odd or even. There're plenty of options to choose from with different levels of probability.

Blackjack

Blackjack is a favorite for many bettors mostly because of its classic and traditional game setting. The game provides great winning odds even if you make small stakes. This freedom increases the player's chances of winning.

Keno

Real money keno is a lottery-style game that offers bettors the potential for large payouts with a small wager. In this game, the more numbers you match, the bigger the potential payout.

Poker

There are many variations of poker that you can play, and many of them offer good odds of winning. You can play for small stakes using your small budget. There're many factors that influence the winning odds.

Slots

Slots provide bettors considerable payout potential, even with small wagers. When betting on slots, bet on slots with high RTPs and progressive jackpots. These give bettors an excellent winning chance.

Baccarat

Baccarat lets you place small bets and potentially win big with correct predictions.
| | |
| --- | --- |
| Casino Game | Winning Odds |
| Craps | 49.3% |
| Roulette | 2.70% – 48.60% (depending on the bet) |
| Blackjack | 42.22% |
| Keno | 65% |
| Poker | 4% – 40% (depending on various factors) |
| Slots | 90% – 99% (depending on the title) |
| Baccarat | 44.63% – 45.8% |
Know When to Stop Playing
Knowing when to stop playing is essential for a player going to bet with $20. Follow these tips to help you play with limited funds.
Budget
The first step is to create a budget and deposit it into your account. Working with a budget saves you from dipping into funds meant for other needs.
Wins and Losses
Winning and losing when gambling is inevitable but keeping track of this information can be vital. Once you experience a streak of wins or losses, it is wise to stop, take whatever win or loss and be content with it.
Don't Believe in Signs
Most casino games are simply luck based, there is no sign or theory that can effectively guarantee to win. As a bettor, if you have lost or won, stop where your budget leaves you. Do not be cajoled into believing in a theory or sign that will most likely leave you in more losses. Accept your defeat or victory and walk away.
Conclusion
Knowing how to win at the casino with $20 requires you to understand the casino industry and what options are available for you. From the start, ensure that you are playing through a reputable site and then worry about high RTPs. Next, keep an eye out for bonuses and try to bet in small bits as opposed to one single large bet. Finally, consider the winning odds of the type of game you plan to play at. Typically all of these should be enough to increase your winning chances, but if it doesn't, then maybe you need to stop and take a break. At Casinohex, we support having a detailed strategy when playing, but in the end, betting should be fun, and there is really no secure plan for winning.
FAQ
What is the easiest game to win?

Games like blackjack, craps, and video poker have better odds and win rates than other games, making them good to play and win on a budget.

Does playing max bet increase odds?

Not necessarily. While playing max bet can increase potential payout if you hit a winning combination, it does not increase your odds of winning. Playing maximum bet often depletes your bankroll faster since you place large bets on each game.