The Ultimate Guide to Jackpot City Casino App
Introduction: Exploring the World of Jackpot City Casino
Jackpot City – jackpotcity Casino is a highly esteemed and well-established name in the exciting realm of online gambling. With its intuitive and user-friendly interface, extensive collection of exhilarating casino games, and a multitude of thrilling features, it has quickly risen to the top as the preferred destination for both novice and seasoned players alike. In this comprehensive and in-depth guide, we will take a deep dive into the remarkable Jackpot City Casino app, exploring every facet of its exceptional offerings. From its seamless mobile compatibility and vast game selection to its generous bonuses and promotions, we will leave no stone unturned in uncovering the unparalleled excitement and endless entertainment that awaits you at Jackpot City Casino. So, buckle up and get ready for an unforgettable gambling experience like no other!
Show More
| App Name | Supported Platforms | Latest Update | Known Issues | Download Link |
| --- | --- | --- | --- | --- |
| JackpotCity Mobile | Android & iOS | September 2023 | Bug Fixes | Get the App |
Jackpot City Casino Welcome Bonus – November 2023
Advertising Disclaimer
CasinoHEX Canada is an independent review service that aims to provide you with a detailed examination of leading Canadian gambling sites. Featured sites are led by our partners who contribute to our business, so CasinoHEX Canada gets its income through the commissions. Users are not charged by CasinoHEX Canada. Commissions that we receive for marketing brands do not affect the gaming experience of a User. However, CasinoHEX Canada provides only unbiased reviews, all sites selected meet our rigorous standard for professionalism.
Getting Started with the Jackpot City Casino App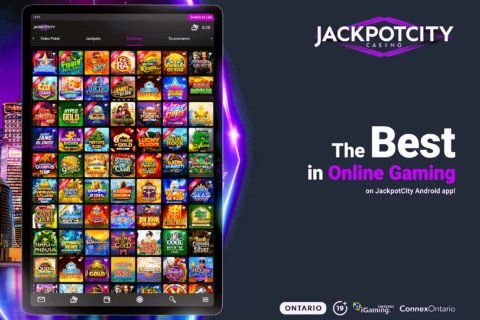 How to Download the iOS App for JackpotCity
Downloading the Jackpot City Casino App on your iOS device is a straightforward process. Start by opening the `App Store` on your device. In the search bar at the top, type in `Jackpot City Casino` and hit `Search`. Look for the official Jackpot City Casino app in the search results and tap on `Get` to initiate the download. Once the download is complete, open the app by tapping on the Jackpot City Casino icon that appears on your home screen. Now you're all set to dive into the exciting world of Jackpot City Casino!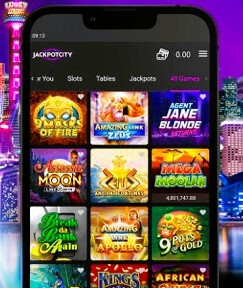 How to Download the Android App for JackpotCity
For those using an Android device, downloading the Jackpot City Casino app is just as simple. Head to the `Google Play Store` and search for `Jackpot City Casino` in the search bar. Find the official app in the results and tap on `Install` to begin the download. Once it's finished, open the app and start playing! It's that easy.
After Installation: Setting up your Jackpot City Casino Account
Once you've successfully installed the app, the next step is to register for an account. Tap on the `Sign Up` button on the home screen of the app, and a registration form will appear. You'll need to provide some personal information, including your name, email address, birth date, and phone number. Ensure that all the information provided is accurate and up-to-date. After filling out the form, create a unique username and a secure password for your account. Be sure to take note of these details for future reference.
1. Verify Your Account
Before you start playing for real money, it's essential to verify your account. Most online casinos, including Jackpot City, require players to submit some form of identification to comply with legal regulations and ensure a secure gaming environment. This typically involves providing a copy of your government-issued ID and proof of address.
2. Explore the Game Lobby
Once your account is verified, it's time to explore the game lobby. The Jackpot City Casino app provides an extensive range of games, encompassing slots, table games, live casino games, and dealer games, among others. With a wide variety of gaming options, players can immerse themselves in a captivating and thrilling casino experience. Take your time to browse through the game categories and find the titles that pique your interest.
3. Make a Deposit
To play for real money and potentially win big, you'll need to fund your casino account. The app provides various banking methods, so choose the one that suits you best. There are several widely used payment methods available, such as credit/debit cards, e-wallets like PayPal and Skrill, bank transfers, and more. These options provide flexibility and convenience for users to choose the payment method that suits them best.. Follow the on-screen instructions to make your deposit securely.
4. Claim Welcome Bonuses
Jackpot City Casino often offers generous welcome bonuses to new players. Check the promotions section to see if there are any bonuses available for you. To claim a welcome bonus, follow the specified requirements, such as making a minimum deposit or entering a bonus code if applicable.
5. Set Betting Limits
Responsible gaming is crucial for an enjoyable casino experience. Jackpot City Casino allows you to set betting limits to control your spending. Determine how much you're willing to wager per session or day, and stick to these limits to ensure you stay within your budget.
6. Start Playing Your Favorite Games
With your account funded and bonuses claimed, it's time to start playing. Navigate to your chosen game category and select a game that catches your eye. Whether you prefer spinning the reels on slots, trying your luck at blackjack, or engaging in live dealer games, Jackpot City Casino offers a diverse range of options.
7. Enjoy Mobile Gaming on the Go
The beauty of the Jackpot City Casino mobile app is the convenience it offers. You can enjoy your favorite casino games anytime, anywhere. Whether you're commuting, waiting for an appointment, or relaxing at home, the jackpotcity mobile! app ensures that entertainment is always at your fingertips.
8. Cash Out Your Winnings
If luck is on your side and you come out victorious in your gaming sessions, you can effortlessly withdraw your winnings. Simply navigate to the cashier or banking section of the app, select your preferred withdrawal method, and follow the provided instructions to cash out. Jackpot City Casino strives to process withdrawals promptly, so you can enjoy your winnings without delay.
9. Stay Informed About Promotions
Jackpot City Casino frequently offers promotions and special offers to its players. To make the most of your gaming experience, keep an eye on the promotions section within the app. You might find opportunities for free spins, cashback, or even exclusive tournaments that add an extra layer of excitement to your gameplay.
10. Contact Customer Support, if Needed
If you encounter any issues or have questions about the app or your account, don't hesitate to reach out to Jackpot City Casino's customer support. They are available via live chat, email, or phone and we are fully prepared to provide you with assistance for any inquiries or concerns you may have.
Navigating the App and Playing Games
After registration, log in using your new username and password. You'll be greeted by the main dashboard, which displays a variety of game categories to choose from, like slots, blackjack, roulette, and more. Simply tap on your preferred game category, then select a specific game to start playing. Every game comes with an information icon that provides details about the game rules and payout structures. Make sure to check this before playing to understand the game better.
Depositing and Withdrawing Funds
To start playing with real money, simply deposit funds into your Jackpot City Casino account. Visit the `Banking` section and select your preferred deposit method. Follow the on-screen instructions to complete the deposit. Withdrawing your winnings follows a similar process. In the `Banking` section, choose `Withdraw` and follow the prompts. Keep in mind that withdrawal times may vary depending on the chosen method.
And there you have it! You're now ready to indulge in the exhilarating casino experience that Jackpot City Casino offers right at your fingertips. Enjoy the thrill of gaming!
Exploring the Features of the Jackpot City Casino App
User-Friendly Interface
One of the most significant advantages of using the Jackpot City Casino app is its user-friendly interface. The layout is clean, organized, and easy to navigate, making it simple for players to find their favorite games and features without any confusion.
Extensive Game Selection
Jackpot City Casino boasts an extensive collection of over 500 top-quality full casino apps and games, including slots, blackjack, roulette, and more. The app offers a diverse range of themes and styles to cater to every player's preferences and guarantees endless hours of entertainment.
How to Use the Mobile Casino App?
Using the Jackpot City Casino mobile app is a breeze, and even if you are new to online gambling, you'll find your way around in no time at all. Once you've opened the app, you'll see the home screen, which displays an array of popular online casino games. If you already have a game in mind, you can use the search bar at the top of the screen to find it directly. To play a game, simply tap on its icon. If you're a new player, you'll need to sign up by tapping the 'Sign up' button and filling out the necessary details.
For returning users, simply enter your login credentials and tap 'Login'. Once logged in, you can select your game and start playing. If you wish to deposit or withdraw funds, tap on the 'Banking' option in the main menu. From there, you can choose your preferred payment method, follow the instructions to complete the transaction, and get back to the gaming action. Remember, if you ever need assistance, the 'Help' option is always available in the menu.
Jackpot City Mobile Version of the Casino
The mobile version of Jackpot City Casino epitomizes flexibility and convenience, delivering an exhilarating casino experience right at your fingertips, no matter where you are. Just like the app, the jackpotcity mobile casino version is designed with user experience in mind. It boasts a sleek, uncluttered layout that is visually pleasing and easy to navigate.
Compatible with both iOS and Android devices, the mobile version allows you to play your favorite games directly from your browser without the need for any downloads. Simply head over to the Jackpot City Casino mobile website on your mobile browser, log in, and you're ready to go.
The mobile version maintains the extensive game library of the desktop version, ensuring that you won't miss any of your favorite mobile games. Moreover, it integrates all the functions of the desktop version, including banking, customer support, and access to promotions, bonuses, and rewards. With superior graphics, smooth gameplay, and fast load times, the mobile version guarantees a seamless and immersive gaming experience on the go.
In summary, Jackpot City's mobile casino version is a fantastic alternative for those who prefer playing on their mobile browsers or cannot install the app. Its compatibility, user-friendly interface, and wide variety of games make it the top choice for anyone seeking a high-quality mobile casino experience anytime, anywhere. So, why wait? Download the app or visit the mobile casino version today and join in the fun at Jackpot City Casino! The excitement never stops at Jackpot City, so get ready to hit those jackpots and win big! Happy gambling!
The Exciting Games at Jackpot City Casino
One of the biggest draws of the Jackpot City Casino app is its vast collection of games. With over 600 options to choose from, players are spoiled for choice. From classic slots and table games to live dealer options, there is something for everyone at Jackpot City Casino. The jackpotcity casino app also features progressive jackpot games with massive payouts, adding an extra level of excitement to your gameplay.
What Sets Jackpot City Casino App Apart?
Unrivaled Mobile Experience
Jackpot City Casino stands out in the online casino industry for its exceptional mobile gaming experience. The Jackpot City Casino app is designed to provide seamless gameplay on various mobile devices, including smartphones and tablets. Whether you're in android casino using an Android or iOS device, you can enjoy a smooth and immersive casino experience.
Diverse Game Selection
One of the key highlights of the Jackpot City Casino app is its vast selection of casino games. With an impressive range of over [insert number] games at your fingertips, players can immerse themselves in a world of entertainment. From classic slots to state-of-the-art, video poker games and captivating live dealer games, there is something to suit every preference and style. Whether you're a seasoned casino enthusiast or new to the world of online gaming, the app promises an exceptional and enjoyable experience for all. Get ready to embark on a thrilling journey of endless excitement and big wins!
Unleash the Potential of Progressive Jackpots
For those who are longing for a life-altering victory and an unforgettable gambling experience, look no further than Jackpot City Casino. This exceptional app offers an impressive collection of progressive jackpot games that will leave you on the edge of your seat. Amongst these thrilling games, you will find the renowned "Mega Moolah," a game that has created countless millionaires, and "Major Millions," a game that promises massive rewards.
With Jackpot City Casino, you have the opportunity to seize colossal jackpots that can instantly transform your destiny. So why wait? Step into the world of exhilarating gameplay and let your dreams become a reality.
Bonuses and Promotions at Jackpot City Casino App
Apart from the exciting gameplay, Jackpot City Casino also offers a huge range of lucrative bonuses and promotions. From welcome bonuses for new players to ongoing promotions for loyal customers, there is always something to look forward to at this exceptional app.
Exploring the Game Selection
Slots Galore
Jackpot City Casino boasts an impressive collection of slot games, including classics like "Break Da Bank" and a wide array of modern video and slots games. Whether you prefer traditional three-reel slots or feature-packed five-reel games, there's a slot for every taste.
Table Games for All
If table games are more your style, the app offers a diverse range of options. From blackjack to roulette, baccarat to craps, you can enjoy all your favorite table games with realistic graphics and smooth gameplay.
Live Casino Thrills
Experience the excitement of a real casino from the comfort of your mobile device with Jackpot City Casino's live dealer games and mobile slots. Interact with professional dealers and other players as you play live blackjack, roulette, and other popular games in real-time.
Making Deposits and Withdrawals
Banking Methods
Jackpot City Casino offers a variety of convenient banking methods to fund your account and withdraw your winnings. From credit and debit cards to e-wallets and bank transfers, you can choose the option that suits you best. Plus, the jackpotcity mobile app supports multiple currencies, making international transactions hassle-free.
Canadian Casino Account Top-Up Options
For Canadian players, Jackpot City Casino offers several reliable and quick options to top up your online casino account. Traditional banking methods such as Visa and Mastercard credit or debit cards remain popular for their ubiquity and ease of use. However, e-wallets are gaining ground due to their high level of security and instantaneous deposits, with options including Skrill, Neteller, and ecoPayz. Jackpot City Casino also supports the use of direct bank transfers, an appealing option for those who prefer not to involve a third party in their transactions. Lastly, for players seeking an alternative, pre-paid solutions such as Paysafecard can be an excellent choice, offering privacy and control over spending.
Minimum Deposit
Before you start playing, it's essential to know the minimum deposit requirements. Jackpot City Casino maintains reasonable minimum deposit limits, ensuring that players of all budgets can join in on the fun. Be sure to check the current minimum deposit amount when funding your account.
Playing Responsibly
Responsible Gaming
At Jackpot City Casino, responsible gaming is a top priority. The app offers a range of tools to help players maintain control over their gambling habits. You can set deposit limits, take breaks from gaming, or even self-exclude if needed. Playing responsibly ensures that your casino experience remains enjoyable and safe.
Conclusion: Jackpot City Casino App – Your Ticket to Entertainment
With its impressive game selection, user-friendly mobile app, and a commitment to player safety, Jackpot City Casino is a top choice for online gambling enthusiasts. Whether you're chasing jackpots, enjoying live dealer games, or spinning the reels on slots, the jackpot city mobile app delivers an exceptional casino experience. Download the Jackpot City Casino app today and embark on a thrilling journey of entertainment and potential winnings.
[q]1. Is Jackpot City Casino app available for iOS and Android devices? [a]Yes, the Jackpot City Casino app is compatible with both iOS and Android devices. You can download it from the App Store or Google Play Store, depending on your device. [q]2. Can I play Jackpot City Casino games for free? [a]Yes, the app offers a "play for fun" mode, allowing you to play games enjoy most games without wagering real money. This is a great way to try out new games or practice your skills. [q]3. Is Jackpot City Casino app safe and secure? [a]Absolutely. Jackpot City Casino prioritizes the security of its mobile site and players' personal and financial information. The app employs advanced encryption technology to ensure your data remains protected. [q]4. Are there any bonuses or promotions for Jackpot City Casino app users? [a]Yes, Jackpot City Casino frequently offers bonuses and promotions to its app users. These can include welcome bonuses, free spins, and loyalty rewards. Be sure to check the promotions section for the latest offers.