You Want WHAT??? by Mariann Mohos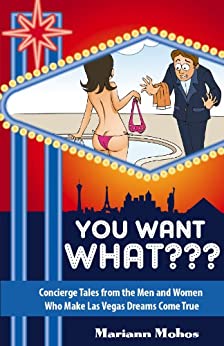 What happens in Vegas, stays in Vegas…but some stories are just crying to be told.
Degrees in Russian and English studies and Economics along with the MBA degree from the University of Nevada, as well as a few years of experience in a wholesale marketing company, turned out to be not enough for Mariann Mohos – the author of the book – to get ready for the job of…a concierge at a Las Vegas casino. And that had nothing to do with the night shifts or the need to be on standby round-the-clock – that can be easily handled by a true professional – no, the thing was the requests themselves!
Bizarre, quaint, whimsical, and even freaky assignments from ordinary and eccentric punters are actually what the job of a concierge is about. But no matter how intimidating the requests might seem to be, as a concierge, you must solve them, and if you do, you will likely end up with some tips in the pocket and – definitely – lots of memorable experiences in your book!
You cleared the international requirements for a concierge, joined the cohort of the other few dozen colleagues in your casino, and…discovered that there's so much more to being a casino concierge than you were taught! There is absolutely no end to the variety of questions that you can be asked to deal with.
As a concierge, you never know what is about to happen the next moment the bell rings at your desk. That might be another 'what's the weather today' type of request, or that might be a mind-boggling/embarrassing/awkward assignment by your beloved eccentric weirdo that has just left heaps of money at the casino table and is now willing to do something crazy to take the heat off. And if the latter is the case, then what you'll be doing during the next few minutes to hours is promising to be epic and hence must be written down and later shared with the rest of the world.
You Want WHAT??? by Mariann Mohos is a sneak peek into the funniest moments of concierge routine, a glimpse into the most amusing and challenging situations that force concierges to think out of the box and come up with substandard solutions to even more substandard requests. You Want WHAT??? entertainingly showcases Vegas concierges at their finest. In Las Vegas we make dreams come true. — Honorary Las Vegas Mayor Oscar B. Goodman What are the funniest questions a concierge can be asked? What is the most memorable assignment of an experienced concierge? What are the weirdest things that can happen with a concierge while he is on guard? The book gives all the answers and then some.
Who Will Love the Book?
From sweet to shocking and scandalous, the range of stories never ceases to impress beginners and amateurs – is there any chance to remain indifferent to 'cow poop,' 'virgin chicken,' or 'breast exposure' request?! At the same time, professional croupiers, concierges, and seasoned punters might not find as much fun in the stories since a fair share of the crazy stuff going on in the Las Vegas casinos and hotels is well known to them.
The 236-page book published on March 21, 2011, is still relevant, well-written, and entertaining. As a future concierge, you will get ready for the most unusual queries and understand what makes a Las Vegas concierge different from any other; as a gambling fan, you'll laugh your head off all the way through the 13 chapters.
Last but not least, the book will teach you to help people and stay in touch with them no matter what. Whether this is a quickie marriage that turned out to be a mistake or a spoiled foie gras that has upset the stomach of your interlocutor, you will always have to have the answer. You will always be there to help. After all, you are a concierge, a man of many faces that knows everything and is ready to go the extra mile to make other people happy!