What Podcasts To Listen To If You're A Gambler?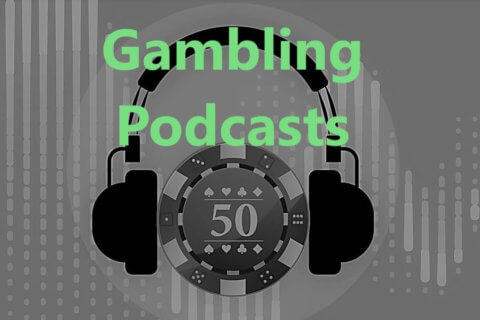 Hey gamblers! We know you love taking your gambling hobby online, but have you thought about indulging your hobby in other ways? Podcasts are a great way to learn more about the world of gambling when you can't be on your phone, tablet, or desktop to play. They're also a great, low-pressure alternative to gambling for real money because most of them are completely free to listen to yet they still allow you to feel connected to the gambling world. Below, we've gathered a list of top-notch podcasts that are great to listen to if you've just started exploring the gambling pod world. You'll find that there are gambling podcasts for a lot of subgenres, like sports betting, blackjack, and poker, as well as a variety of formats, so you can always find the podcast that fits your game of choice. Whatever you choose to listen to first, remember that there's no shortage of content to enjoy, so if you're not feeling one podcast after a couple of minutes, you can always try something else.
1. Behind the Bets with Doug Kezirian
| | |
| --- | --- |
| Active creator since: | 2018 |
| Number of episodes: | 200 |
| Type of content: | Vegas Sports Betting |
Looking for a traditional morning radio show vibe that gives great tips on gambling at the same time? You needn't look any further than Doug Kezirian's show "Behind the Bets." This show focuses primarily on the world of sports and sports betting, specifically how fans of sports betting can maximize their winnings, utilizing factors like timing and seasonal milestones to yield the best betting returns. Kezirian also makes a point to have a wide variety of guests on his show to interview about sports and sports betting, so you can count on the fact that you'll probably learn a little something during every single episode.
The banter on the podcast can be a bit cheesy – but we understand that some listeners will view that as a positive! Get ready for hammed-up segues and whimsical sound effects to signify a topic transition on this show. Combine that with Kezirian's booming baritone voice and you get a podcast reminiscent of a "Morning Zoo" inspired radio show that's fast-paced, light, and really entertaining.
Doug Kezirian comes out of the gate with quality content; no need to fast forward your listening to mid-show episodes here. The sound is always crisp and clearly done with high-quality equipment, and the sound mixing is expert-level (if not a bit silly occasionally). Not only that, but this podcast regularly posts content, so you'll always be able to listen to an episode when you want to. We recommend this show to listeners who have a keen interest in the world of sports and sports betting. Every year, Kezirian comes out with episodes that center around events in the sports world, like basketball championships or the American Football NFL draft.
2. Gambling with an Edge
| | |
| --- | --- |
| Active creator since: | 2010 |
| Number of episodes: | 536 |
| Type of content: | General Gambling |
Another show that's reminiscent of the classic radio format, Gambling With An Edge is hosted by two friends, Richard Munchkin and Bob Dancer, who take the listeners through an hour-long episode on the world of gambling one a week. They usually format the episode around a guest of theirs, who is usually some sort of industry expert. They interview professional poker players, authors of gambling books, etc. to get what feels like an "inside scoop" on the gambling world. Both hosts are really engaging; they remind the listener of a journalist and ask probing questions that really let you get a peek into the life of the person they're interviewing.
The only downside about this show is the audio quality; it has a bit of a "recorded at home" vibe that, although what they're saying can be understood fairly easily, has a slight reverb that is a little annoying at first (rest assured, though: you don't notice after a while thanks to the interesting nature of the show). Ultimately, we would recommend anyone interested in gambling give this show a listen, particularly if you're interested in gambling books or have a good amount of knowledge on gambling industry experts, as that's what the show is formed around. You might find an episode that features your favorite author and perhaps lets you glean brand new information about their life or body of work.
3. You Can Bet on That
| | |
| --- | --- |
| Active creator since: | 2012 |
| Number of episodes: | 220 |
| Type of content: | General Gambling |
For fans of a conversational, laidback radio show format, we encourage you to check out the You Can Bet on That podcast. The hosts are Mark DeVol and Dr. Mike, two friends and professional gamblers with a passion for trying your luck and winning a bit on the way. Their show boasts a very approachable format; they've been friends for years so the banter on the show is quite organic and even relaxing to listen to. Depending on the week, the duo will share their latest gambling experiences, like a story about a recent tournament one or both of them participated in, or they'll share information about other topics like the newest gambling trends to hit Las Vegas, what's going on in the gambling world, etc. For example, some of their most recent episodes as of November 2020 are about the new measures Las Vegas is taking to keep gamblers safe in the midst of the pandemic. They provide some no-nonsense info about how to indulge your gambling habit while still staying safe.
And what's more, there are a few pieces of good news regarding this podcast! First, the You Can Bet on That podcast has moved all of their episodes to YouTube, so you can streamline the app you use to watch videos and listen to podcasts on it as well. Additionally, this podcast comes out with a new episode regularly every other week, allowing you the freedom to always get the latest gambling news whenever you want or need it. This show is great for anyone looking to gain some general knowledge about the world of gambling from a couple of seasoned pros. The relaxing nature of the show is worth noting again; if you're looking for something you can chill out to while you play slots, this is the podcast for you.
4. The Blackjack Apprenticeship
| | |
| --- | --- |
| Active creator since: | 2008 |
| Number of episodes: | 47 |
| Type of content: | Blackjack, Card Counting, Gambling |
Blackjack Apprenticeship is a podcast centered around the topic of "beating the casino" by counting cards. The host is Colin Jones, an expert-level blackjack player and (formerly) professional card-counter who teaches viewers about blackjack's finer points. He strives to impart knowledge to his listeners about how they maximize their winnings. Whether you're looking for tips, strategies, or tutorials on card counting or just want something relaxing to listen to on your way to work, Blackjack Apprenticeship is a great choice thanks to Colin Jones' laidback delivery style that makes you feel like you're getting a private blackjack lesson.
The podcast features two hosts, Colin and one of his friends, and they sometimes incorporate another person to their channel in order to get information about a particular facet of blackjack, card counting, or gambling in general on which that person is an expert. Although the pair of hosts struggle with minute things like audio quality in the first few episodes of the podcast after they work out the kinks their pod is very high quality. This is largely in part to Jones' natural charisma and clear passion for the game of 21. Apart from that though, the information conveyed in every episode is top-quality and genuinely useful to anyone wanting to learn a little bit more about the finer points of blackjack.
Anyone who might consider themselves a blackjack enthusiast would greatly benefit from listening to this podcast. Blackjack can be a very intimidating game to some, which is why Jones' calm, laidback style of speaking is perfect for beginners. On the other hand, experts in blackjack will also undoubtedly appreciate Jones's vast knowledge on the subject. For this reason, we would highly recommend this podcast to anyone, whether you're a seasoned expert or only just starting out on your blackjack journey. They come out with new content regularly and have a youtube channel where Colin makes videos about blackjack as well.
5. Seven Out Gambling, Poker, and Casino Podcast
| | |
| --- | --- |
| Active creator since: | 2018 |
| Number of episodes: | 40 |
| Type of content: | General gambling, Casino stories, and news, Industry interviews |
Vinny Chenz and Big Joe are the hosts of this light and fun podcast surrounding the topic of all things gambling-related. Whether you're looking for a funny casino story or interviews with gambling industry experts, Seven Out is a great resource for you. The duo often goes on trips around the United States to the country's most well-known casino cities, like Las Vegas, Atlantic City, and many others, coming back with all sorts of hilarious or cool anecdotes that they share on the pod.
The great news? Vinny and Joe record episodes bi-weekly, which means that you can get their quality content fairly regularly. Luckily, no matter where you start in their pod series, you're in for high-quality content. The audio is great out of the gate and the show format is extremely straightforward and well-organized from episode one. Additionally, some of their episodes are now available on YouTube, so no matter what format you prefer to listen to, you can probably find an option that fits your style.
Overall, The Seven Out podcast is geared towards a younger gambling crowd, so we'd recommend their show to listeners who are on the younger side (or young at heart). Both Vinny and Big Joe give off the vibe of talking to your two old friends at the bar, so if casual conversation and manly banter is your thing, be sure to give this pod a listen when you get a chance.
6. Vegas Confessions Podcast
| | |
| --- | --- |
| Active creator since: | 2018 |
| Number of episodes: | 65 |
| Type of content: | General gambling, Vegas food reviews, Industry interviews, Gambling trip reports |
If you're looking for some really fast-paced banter and some really enthusiastic hosts, the Vegas Confessions podcast is perfect for you. The three hosts are based in the American gambling hub, Las Vegas, and have episodes that cover the gambling scene from every angle, from Vegas trips that the three of them go on, to their favorite casino restaurants, and even interviews with some gambling industry experts.
The only downside to this pod is that the trio can cover some topics that aren't exactly appropriate for polite company. If you're easily shocked, this podcast might be a good idea to pass on. However, if you have a more risque sense of humor, you should be prepared to literally laugh out loud at some of the topics they discuss and the jokes they make. Overall, we would recommend this pod to anyone looking for a casual, conversational, informal podcast format as well as anyone looking to learn more about the Vegas-specific gambling industry.
7. All In – The Addicted Gambler's Podcast
| | |
| --- | --- |
| Active creator since: | 2018 |
| Number of episodes: | 159 |
| Type of content: | Gambling addiction and support |
If you're looking to stop gambling and need support along the way, it's definitely worth checking out the All In podcast, which deals with gambling addiction, support, and recovery. Gambling is definitely fun, but it's also highly addictive and it's important to know when you need to take a break or stop gambling altogether. The host, Brian Hatch, has a classic radio show voice that is cheerful and straightforward as he takes you through interviews with both addiction professionals as well as gamblers in recovery, so listeners can get expert advice on getting over gambling addiction in an educational, judgment-free way. Luckily, if you're someone who needs extra guidance during a recovery period, this podcast releases new episodes every couple of days and already boasts an episode list of 159 episodes, so there is no shortage of content to get you through a difficult spot. On top of that, the show demonstrates quality recording techniques and an organized format right out of the gate, making you feel as though they put a lot of effort into making their episodes great for the people who need them.
We would recommend this pod to former players who need some help getting through the process of recovery because they might find the recovery tales of others inspiring and good for helping them get through tough points in their own recovery. This podcast is also appropriate for anyone who is interested in gambling, as hearing about stories of excessive gambling can equip them to recognize the warning signs of when things start getting out of control. It's important for everyone to be able to see the signs of when they or a friend or family member might need help to overcome gambling addiction.
8.The Bettor Life
| | |
| --- | --- |
| Active creator since: | 2017 |
| Number of episodes: | 114 |
| Type of content: | General gambling, table games, interviews |
Hosted by gambler Timothy Lawson, The Bettor Life podcast provides its listeners with an hour of high-quality content every week. The show gives listeners tips, tricks, and interviews on some of your favorite casino games, as well as some variations that you might not even know about! Timothy is a great interviewer, and just about every week he does an interview with someone from the industry, whether it's a casino travel expert or even answering calls from listeners for questions or great gambling stories.
One great thing we love about this podcast is the variety that's included in it. Lawson covers many different games in his episodes, so you'll probably be able to find some advice or anecdotes on at least one of your favorites. The Bettor Life posts a new episode every week, but if you don't mind listening to past episodes you're in luck because from the very first episode, the content is top-notch. Out of all the pods on this list, this is one of the best for listeners who want to gain some general knowledge and insider tips on a wide variety of games. Lawson is an expert interviewer who creates a casual atmosphere on his show that allows you to relax and soak up all of the intel the guest has to offer, with some funny banter adding in along the way.
9. Gamble On
| | |
| --- | --- |
| Active creator since: | 2018 |
| Number of episodes: | 114 |
| Type of content: | General Gambling, Gambling News |
Presented by USBets.com, hosted by Eric Raskin, USBets managing editor and John Brennan, USBets Senior Analyst and a Pulitzer Prize Analyst. USBets.com, for those that don't know, is a gambling news site dedicated to the world of gambling in the United States.
Raskin and Brennan often incorporate the interview format into their show, getting expert anecdotes and advice from industry professionals and friends. Both of them have a very approachable style that's informative as well as relaxing. Since this show started as an offshoot of an extant website, the quality is great from the very first episode. And because they come out with new content weekly, you'll have no shortage of pod episodes to listen to while on your way to work or just relaxing at home. We would recommend this podcast to anyone interested in gambling news from professional journalists, sports betting, and both live-action and online gambling.
10. Professor Slots
| | |
| --- | --- |
| Active creator since: | 2017 |
| Number of episodes: | 117 |
| Type of content: | Slot gambling, Slot strategy |
Calling all slot fans: the Professor Slots podcast is an ideal choice for players who want to sharpen up their slots strategy. The host, Jon Friedl from ProfessorSlots.com takes his listeners through an exciting seemingly endless amount of slot tips and strategies that help you maximize your potential for wins and avoiding games that have worse odds. Get ready for anecdotes galore about past big wins that let you relive the most thrilling parts of gambling in a low-pressure setting.
The host Jon has a calm way of speaking that gets you excited to try out the latest slot game – giving you the confidence to take on the strategy aspect of a game that most people write off as pure luck. The show posts new episodes weekly, and even from episode one you get high-quality audio and a well thought out show format that's perfect to chill out to. Obviously, we recommend this podcast to fans of the slot subgenre of games. You're sure to be interested in Friedl's in-depth advice about one of the world's most popular types of betting games.