Virtual Reality Gambling: Touch The Future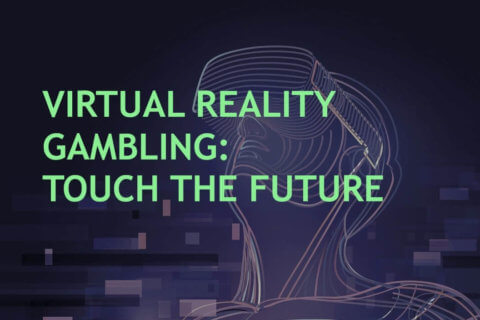 Even though the idea of Virtual Reality games has been around for a while, we've only started realizing the production of VR and AR games for the past decade or so. Casual gamers got a taste of Augmented Reality games with Pokemon Go in the mid-2010s, and its success is still felt today, with many different games taking inspiration from the same aesthetic. As far as Virtual Reality gaming is concerned, with new consoles gradually becoming available for household use (like the Oculus console, for example), it's only a matter of time before VR gaming starts to become as normal as enjoying a controller-based video game on your Xbox or Playstation. What's great about both types of games is how much they can immerse the player, creating a completely new virtual world with which players can interact. At the core of video games is their ability to transport the player to another world, and Augmented and Virtual Reality games take that concept a step further, building an entire world around gamers that can be seen and moved for an experience like no other.
While it can be a hotly-debated topic in the gaming community, most people agree that the concept of AR and VR originated in a science fiction story from the 1930s called Pygmalion's Spectacles, which tells the story of a pair of goggles that allow the wearer to experience a projected world through sight, taste, sound, touch, and smell. From there during the middle of the 20th century, quite a few other visionaries began experimenting with altered reality through interactive art exhibits and installations, as well as rudimentary VR goggles that projected images to the user to make them feel as though they were in another setting.
As far as the future of Virtual Reality and Augmented Reality game development is concerned, industry leaders project that not only will virtual gaming begin catching on with gamers both seasoned and casual alike, but also become the new normal within just a couple of years. As we mentioned above, Augmented Reality is already a popular way to game thanks to the development of smartphones, with the most popular AR game being Pokemon Go and many more following in its footsteps. Virtual Reality gaming presents a more challenging format, after all, where Augmented Reality makes use of the player's surroundings and only superimposes bits and pieces around the player, Virtual Reality is required to create a completely new world. However, game developers like Microsoft and Facebook have already begun disseminating Virtual Reality platforms and consoles, most notably the Oculus Quest VR set.
Although the VR set was only initially available for trial, it quickly went on the market so players could enjoy it at home. As it's one of the first VR sets, it's received reviews that have been both mixed and positive, but there's no doubt that in a few years, VR will be perfected to the point that it becomes commonplace to even the most casual gamers.
What Can the VR Industry Offer to Gamblers Today?
So, what does this mean for online gambling? As you can probably imagine, the development of Augmented Reality and Virtual Reality games is definitely going to affect the world of online casinos and online gambling in general. One of the biggest draws of online casino gaming is that you can recreate the experience of an in-person casino to enjoy your favorite games in the comfort of your very own home. And with the advent of Virtual and Augmented Reality gaming, you make the experience even more realistic.
Whether that means augmenting your dining room table to play a few hands of poker or creating the head-to-toe virtual experience of an entire slot casino, Virtual and Augmented reality games could mean some vast improvements in online gambling games. Because Virtual Reality online gambling games are indeed the future of online gaming, the developers currently exploring the concept of AR and VR are at the top of their field. Names like Microgaming and NetEnt – both already quite well-established in the online gaming industry – are spearheading the Virtual Reality gaming effort, so you know whatever they create is going to be an experience you'll never forget.
Even now, there are real, actual virtual reality games on the table for players to enjoy. PokerStars, for example, recently upgraded their PokerStars VR game to include Sit & Go tournaments where players can play together in a virtual casino. And for all you slot fans out there, a few Virtual Reality casinos have begun to offer a wide selection of slot games for both real money and just-for-fun casino chips, so no matter what kind of style you prefer to game in, you can find the right fit for in the immersive world of VR online gambling. You can easily choose one of the preferable casino payment methods to enjoy gambling.
One of the best parts about gambling online is interacting with other players, but what if instead of a simple chatbox format that lets you speak to them, you got to really sit at a table together – with players from all around the world?! With VR gaming, you can do just that. Not only can you see other players at the virtual table with you, but you can also see their movements as well, giving you the camaraderie that's half of the fun of games like craps or roulette. While this fact is ideal for gamblers who favor the table game format, it's still an awesome feature that allows players to socialize and ultimately, have fun.
Lastly, many VR casinos also offer players the opportunity to win real money and to place real money bets! We know that even the most happy-go-lucky gamblers can't deny the draw of possibly winning real money – and VR casinos certainly provide that option to anyone willing to try their luck. This is huge because you get the same thrill of winning that you would be able to find at a conventional casino, but with the added joy of an even more immersive experience to complete the Vegas-levels of fun.
Actual VR Casino Games To Play
Before we close out this post, we would like to go over with you some of the best VR-based games you can play right now. Just like how you can always find the right game for your playstyle at any online casino, VR casinos offer a wide breadth of games to choose from and cater to players' desires to recreate an experience that's as close to the real thing as possible.
| | |
| --- | --- |
| VR Casino | If you're lucky enough to already own an Oculus set, you can find this online casino game in their app store. VR Casino, which was released in January of 2018, is free to download and offer in-app purchases if you'd like to put money towards your gaming experience. The idea of this game is to recreate as faithfully as possible the experience of a true Vegas casino, complete with slot-based games, virtual baccarat and blackjack tables, and more! |
| Social Club VR | Looking for the high-class aesthetic of a high roller casino? You'll find that exact experience at Social Club VR, a virtual reality casino game that lets players freely move around the casino to play with other gamblers from all around the world. Not only can you customize your individual avatar, but you can also even customize your surroundings to fit what fun means to you. The casino offers games ranging from high stakes table games like roulette, baccarat, and blackjack to more casual games you can play in VR with your friends, like backgammon or chess. Regardless of what you choose, this game boats high-definition graphics and a huge range of arcade and casino games. It's currently $19.99 in the Steam store. |
| VR Roulette | If roulette gaming is your thing, look no further than VR Roulette, a new addition from Microgaming, a UK-based casino game developer famous for being an industry leader in the world of online casino gaming. They made a name for themselves in the online gaming community thanks to their immersive, high-definition graphics and entertaining sounds for their casino games, and they have certainly carried that level of quality over to their first VR game. Play classic roulette in a new way that lets you truly step into a casino – the game even features a robot dealer to run the game for you and the other players. |
| Gonzo's Quest | Inspired by the fictional City of Gold, El Dorado, Gonzo's Quest entertains every player with mesoamerican-inspired artwork, thriving jungle settings, and even the pyramids of South America! This thrilling and immersive VR game is brought to you by NetEnt, a game developer known for their whimsical titles and top-notch gameplay. |
| Lucky VR | There's no doubt in anyone's mind that VR is the definition of modern. With that in mind, you might like the VR casino gaming experience of Lucky VR. Their website has a sleek, minimalist aesthetic ideal for contemporary gamers, and they specialize in Virtual Reality poker tables, bringing players new to VR gaming the in-person feel of a live casino. |